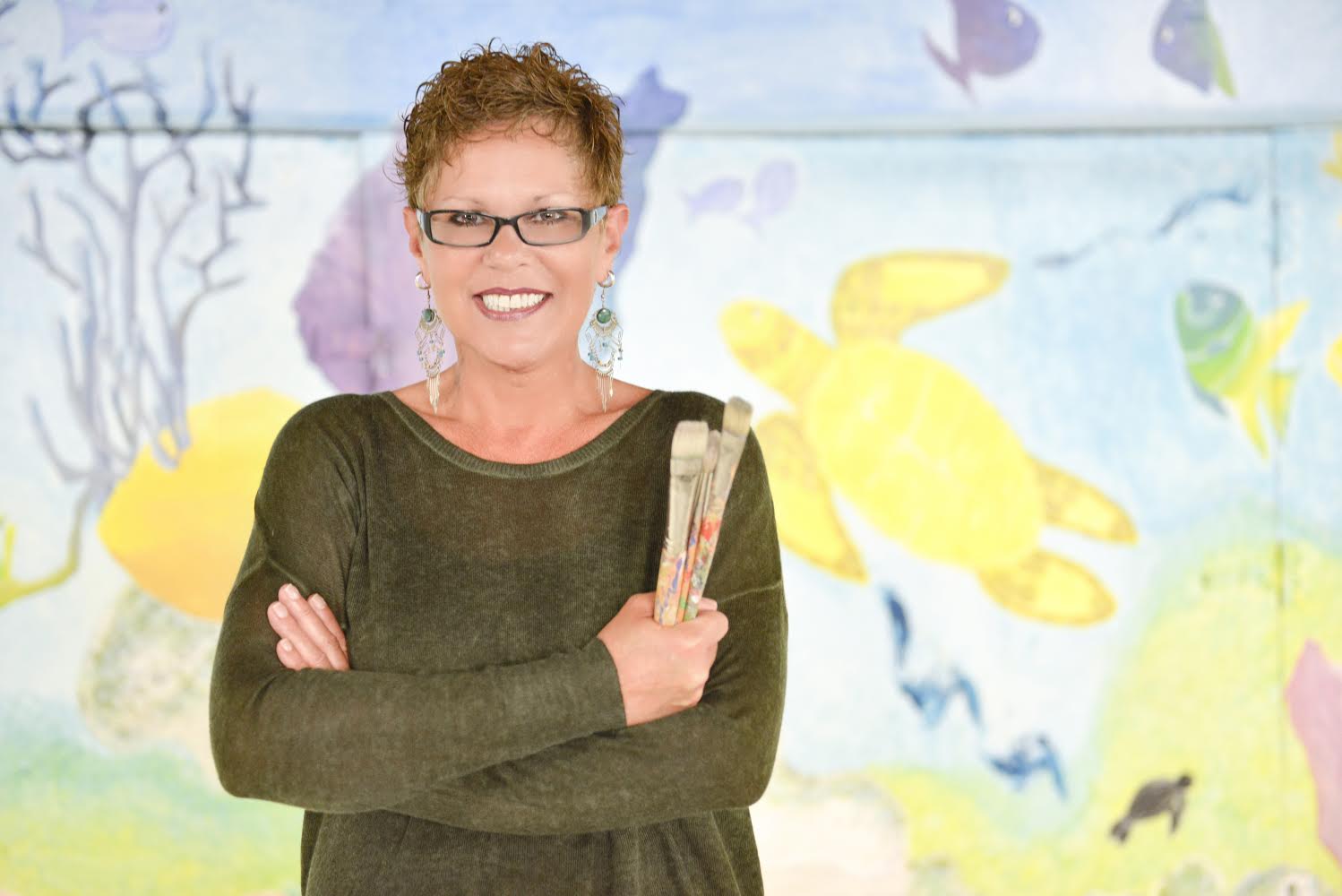 Very early on, Dorene Ginzler's dedication to living the life of an artist has been the relentless pursuit of bringing color to life.  Her fearless uncompromising self-expression is inspired by integrating her lifetime of extensive travel to over 40 countries on 6 continents and being influenced by some of the world's greatest monuments, museums, and vast spectrum of cultures.  For Ginzler, one of  the over-riding themes has been the spectacular influence both nature and the sea, have had in profoundly impacting her use of color shape composition and light.

Born in Detroit, Michigan, in 1956, Ginzler began formal art training as a child at the Detroit Institute of Arts, and continued with merit studies at Interlochen, College for Creative Studies and Cranbrook Academy of Art with discovery explorations in various mediums ranging from pottery to painting.  She earned her Bachelor of Fine Arts from Eastern Michigan University graduating with honors, with majors in painting sculpture photography and art history, including adjunct studio work in Florence, Italy.
Traveling around the world several times over many decades and residing in numerous places, Ginzler is absorbing the local colors and flavors that make a small town or city incredible and awe-inspiring, including snorkeling in coral reefs located around the globe.  These lifestyle experiences from the primitive to the complex are reminiscent inspirations ultimately found in her works.  Her abstract color theory paintings include works on paper and canvas using watercolor and oil paints; with brushstroke so fresh they still look wet showing evidence of the artist's hand as ever present.  Passionate about all forms of art, inspired by nature and the sea while influenced by a myriad of music and dance, Ginzler creates a kaleidoscope-like effect using a push-pull of juxtaposition with primary and secondary compositional design.  Ginzler's paintings allow the viewer to see what they wish, while engaging the senses to elicit universal truth and infinite illusion.
  Ginzler found her love of water and swimming at an early age with the aliveness of the ocean, sea creatures and marine life very compelling.  Recently, Ginzler completed painting "Neptune", a 9' x 40' mural installation of a coral reef scene for an outside educational environment at Gumbo Limbo Nature Center in Boca Raton, Florida, where she named the painting in honor of a resident sea turtle ambassador.  "Neptune" (a mythical symbol for God of the Sea), brings added attention to our increasingly fragile ecosystem.  Visitors of all ages from all over the world are learning about our global environment, endangered marine life, and rescue/rehabilitate/release efforts for sea turtles to survive.  Visitors are also experiencing artwork in a new way, outside the traditional gallery setting; art as a universal language found everywhere.
Ginzler has held several teaching positions and participates in numerous juried art shows where she has won awards, acquiring hundreds of private and corporate collectors of her work along the way.  Her unique style and passion for design has led to the commission of many specialty paintings contracted through art collectors and interior designers for their clientele. Ginzler's original fine art paintings are for individual collectors, business environments and public installations.  Contemporary paintings with custom design colors are also created to match colors of interior decor and parallel individual aesthetic motif.
Ginzler's life long explorations and experiences give her a better understanding of the peace and happiness art brings to people that transcends both time and culture.  Her current paintings are an accumulative expression of her passion for the sea, the richness that is inherent in nature, while paying homage to the color and beauty that surrounds us.
Dorene Ginzler currently works from her Ginzler Studio Gallery in Boca Raton, Florida.
"Mixing endless color possibilities with spontaneity in painting, takes on a spirituality and beautiful life of it's own … 
The colors and shapes speak for themselves."  Dorene Ginzler

CURRICULUM VITAE ~ Art Shows  ~ Festivals ~ Exhibitions
Upcoming Group Shows:
ArtUpClose ~ Artifact Gallery, New York, 2018
AVA  Art Festival ~ Rio De Janeiro, Brazil ~ 2018
AVA Art Festival ~ Osaka, Japan ~ 2018
AVA Galleria ~ Helsinki, Finland ~ 2018
Ars Longa Galleria ~ Helsinki, Finland ~ 2018
Group Shows:
Caroussel du Louvre ~ AVA Galleria ~ Paris, France, October 2017
Galleria Ars Longa ~  Helsinki, Finland,  2017
Ava Galleria  ~ AVA Art Fair ~ Osaka, Japan, May-June 2017
AVA Galleria ~ Art Without Borders, Helsinki, Finland, Jan 3 – 21 2017
Miami River Art Fair ~ Miami Convention Center, Art History Consulting, Dr. Barbara Aust-Wegemund, curator from Hamburg, Germany, The Gates of Paradise, Art Basel Miami Week, December 1-4, 2016
AVA Galleria ~ Carrousel de Louvre ~  Paris, France ~ October 21-23, 2016
NYC Pop Up Show ~ Art Nation Wynwood Gallery ~ New York, NY 08-31-16 to 9- 5-16
Saphira & Ventura Gallery ~ New York, NY ~ June, 2016
United Nations Headquarters, New York, NY ~ "Earth Contemporary Salon" ~ Saphira & Ventura Gallery, Ava Galleria, Art Nation Wynwood, Alcinda Saphira curator, Louis Ventura and Edson Cordoso co-curators, in conjunction with International Contemporary Art Society of New York and Portuguese Language Division of the UN ~ May, 2016
ArtExpo NY ~ Artblend and Art Nation Wynwood Galleries ~ New York, NY ~ April 14-17, 2016
Spectrum Miami Art Fair ~ Artblend Gallery, Art Basel Miami Week ~ Dec 2-6, 2015
Artblend Gallery ~ Ft Lauderdale, FL
Exor Galleries ~ Boca Raton, FL
ArtServe ~ Ft Lauderdale, FL
Boca Raton Museum Artists' Guild, FL
Palm Beach International Airport, FL
Palm Beach Watercolor Society, FL
Wellington Art Society, FL
Art On The Green ~ Franklin, MI
Birmingham Art Fair ~ Birmingham, MI
Birmingham Bloomfield Art Center ~ Bloomfield Hills, MI
Artful Gallery and Framers ~ Clarkston, MI
Grosse Isle Herb Society ~ Grosse Isle, MI
Franklin Garden Boutique ~ Franklin, MI
Cranbrook Academy of Art Garden Society ~ Bloomfield Hills, MI
Solo Shows:
Ginzler Studio Gallery ~ ongoing in Boca Raton, Florida
Spanish River Library Gallery, Boca Raton, FL Dec-17 to Feb 3, 2018
Premium Kitchens ~ Contemporary Interior Design ~ Boca Raton, FL 2017
Cultural Council of Palm Beach County, Lake Worth, FL ~ April 1-29, 2017
 Ludwig Framemakers + Art ~ Art Expo Art Walk, Wilton Manors, FL ~ Jan/Feb, 2017
Gumbo Limbo Nature Center ~ Mural Installation of a coral reef scene "Neptune"  completed in 2014,  ~ Boca Raton, FL
American Orchid Society ~ Delray Beach, FL
Round Lake Pottery ~ Clarkston, MI
Bordine's Landscape and Design ~ Rochester Hills, MI
Publications/Press:
The Rickie Report ~ January, 2018
Carrousel du Louvre Art Shopping Catalog ~ featured art on gallery page ~ 2017
Simply the Best Magazine ~ 2017 & 2018
Artsper ~ 2017
Ava Galleria Magazine ~ 2017
PalmBeachHappening.org ~ 2016
Artslant ~ 2016
Artfix Daily ~ 2016
Miami River Art Fair Catalog ~ 2016
Artblend Magazine ~ 2016
Art Hamptons Catalog ~ Art Nation Gallery ~ 2016
 ArtExpo NY Catalog ~ Art Nation Wynwood Gallery ~ 2016
 ArtExpo NY Catalog ~ Artblend Gallery ~ 2016
 Spectrum Miami Catalog ~ Artblend Gallery ~ 2015
Boca Raton Observer Magazine ~ April, 2014
Gumbo Limbo Nature Center ~ Hammock Happenings ~ 2014
Florida Design Magazine